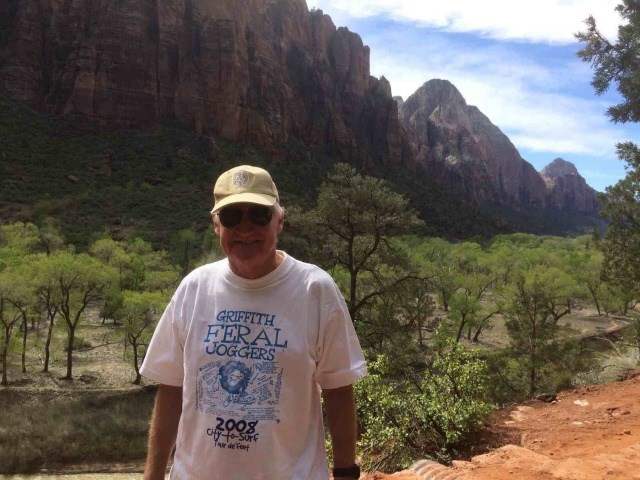 Date: Tuesday, January 23, 2018
From: Bob
Battle with Trumpie
Trip 1 : The "Lost" Postcard:
My last postcard from the United States of Trumpia seems to have been lost in the post, perhaps it was deemed to have contained only fake news and Donald's media police intercepted it. Anyway on that trip we decided to run around a couple of National Parks in an attempt to spread the philosophy of and demonstrate what it is to be truly Feral. So collected our family in Fort Wayne before flying to Las Vagas, no doubt the ultimate example of what Trumpia is striving to become, and what all its excess is all about. As they say 'God blessed Trumpia' but its good citizens are doing their darndest to overdevelop it into 'the Trumpian Dream' by digging up, shooting up and generally stuffing up, and burying all its natural beauty under tons of concrete and high rise, and wrapping them in neon lights and other garish excesses, after all this is 'the Trumpian way'. And then there is its people, while many are very nice and even informed about about what's making news in their country (and even some in what's going on in the rest of the world) , all too many are way over weight (seems like a wheel chair for the obese is a fashion item in airports and casinos in LV, and many other parts of the country for that matter), and alarmingly ill informed, truly believing that the solution to every serious, and not so serious, issue is to use deadly force; even being pulled over for speeding, can see you looking down the barrel of a 'politely spoken officer of the law who seems scared s--tless that you too may have a gun', so hands on the steering wheel in clear view of the officer, NOW ! Everyone seems to be mindful that citizens of Trumpia have the right to bear arms and to store an arsenal in their homes, and this has a negative affect on their disposition. No one seems to be totally at ease and it certainly has an impact on their sense of humour! No wonder John Wayne was such a Trumpian hero figure as he seems to have modelled the way Trumpians problem solve. Needless to say this concern about your good neighbour has given rise to the belief that everyone needs to have a house full of guns and 'pack iron' when out and about (we even saw some Trumpians wearing holstered guns as they vacated in LV, I guess that's the Trumpian take on packing for holidays) to protect themselves and their family. On the up-side it does seem to encourage polite conversations and has eradicated anti-social behaviours like road rage. Finally what do Trumpians think of Trump? Answer: While there are those (and there are more then you would expect who think he's the best thing since Hugh Heffner, many, most, express their dismay that out of 280 million people, this was the best they could come up with. Even saw a bumper sticker that said 'I'm Republican but I didn't vote for Trump', it appears the majority disliked Hillary and the Clintons even more than Trump and took a punt, and are now seeing themselves as the laughing stock of the world.
So not impressed with Las Vegas and the type of holiday it offers, our decision was to 'head for the hills' or at least the National Parks as quick as we could. And what magnificent places these parks are: first stop stop Paige(Arizona) to raft down the Colorado River in Glen Canyon (including going around Horseshoe Bend) and then to 'track' through Slot Canyon which has been sculptured by rushing water and wind (a real highlight), then it was off to Bryce Canyon (Utah) for a gentle jog to the bottom of the canyon and back up again in the snow, truly beautiful !! Our last port of call was Zion National Park , completely different, where sheer rock faces and rocky tracks (not dissimilar to the Hill tracks) contrasted to the other places we 'jogged' around. Plenty of wildlife and magnificent scenery; a must see and for Ferals, a must jog!