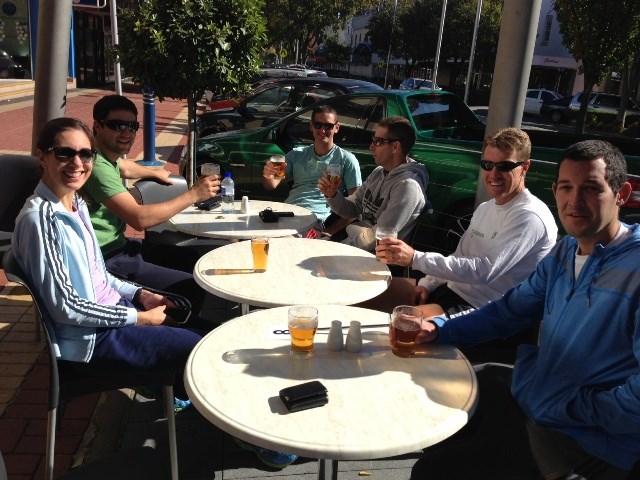 Date: Monday, May 13, 2013
From: Anthony
Nail Can Hill 2013
Well, Nail Can Hill has been run and won again. Not by any Ferals, but it was apparently won by somebody.
The Pack has increased in size this year. Heff went soft and didn't support his team mates, but 4 fellow Ferals joined us this year in another killer of a run. Glen Rosato, Michael Johns and Simon & Fiona Fattore were welcomed into the Pack, joining out-of-town regulars Adam, Rodney & Salmon. It was expected that the Pack size could have been as high as 9 members but Sharon Careri and Trent Rosato followed Heffs lead and decided that spending time with their families was more important than a road trip with the Ferals. Shame.
The trip started at 5:15am in Rovere Place, with the pre-race talk around getting a set of cans. We all like our cans, especially Sav, but this year was special as the old Pack were about to complete their pair. The new comers were filled with expectation, not knowing what to expect, but we put them at ease telling stories of gentle inclines, chicken parmigianas and ice cold schooners. We piled into Sav's dad's Prado, yep all 7 of us, and spent 3 quality hours together, discussing the impending hill and playing poker with the "Show Girls" deck of cards that Simon gleefully discovered under the 3rd row of the Prado.
We arrived at the start line and met up with Teresa Burgess. She has run City-to-Surf and The 6 Foot Track but after running Nail Can she declared this was the pinnacle of her career. All other runs fade in comparison. In the meantime, Simon was strutting his stuff, talking the talk and declaring Salmon had no chance in beating him to the line. Time would tell.
As it panned out, the finishing order (from 1680 competitors) of the 11.3km track was as follows:
Rodney - 23rd (15th in age group) - 46:48 Adam - 25th (3rd in age group) - 47:01 Michael - 63rd (35th in age group) - 50:28 Fiona - 234th (26th in age group) - 57:10 Glen - 238th (97th in age group) - 57:18 Teresa - 261st (3rd in age group) - 57:46 Simon - 284th (114th in age group) - 58:24 Anthony - 292nd (51st in age group) - 58:37
Yes, Simon beat Salmon, and for the record has done so now for the past 3 "away" races. All I can say it was a LONG trip home.
There was also a half-can run. Teresa's daughter Amy finished 3rd (1st in U20's) in the 4km event. Wow, great work! Certainly worthy of a few celebratory drinks in the Burgess household.
The race itself was brutal. For those who are yet to tackle Nail Can, give it a go. With magic weather, a top track and a great atmosphere it is highly recommended for all Ferals.
When all was said and done we made our way to the Albion Hotel where 7 chicken parmies and chips were duly ordered, washed down with a few schooners. A (crap) coffee was consumed, we climbed back into the Prado and Fiona prised the Show Girls deck out of Simon's hands as we spent another 3 hours crammed into the Prado.