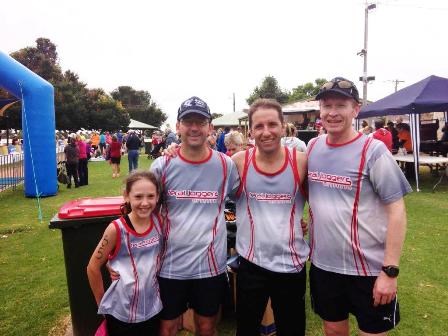 Date: Saturday, March 1, 2014
From: Anthony, Isabella, Rodney & Brendon
Some Splashin' and Dashin' in Yarrawonga
G'day Ferals,
Feral team 4-S (Salmon, Salmon , Savage and Sinclair) headed off to Yarrawonga Splash N' Dash at 5.55am to compete in the Dash part. It was 10 minutes past our agreed departure time but we were on our way until a phone call was received whilst stopped at a red light at Mackay Avenue to advise Salmon senior that Salmon Junior's shoes remained in the garage.
A quick loop back to collect and we were really on our way. Anthony assured us that we wouldn't strike the red light twice and things looked good when approaching the deserted Mackay Avenue intersection but the lights turned amber and then red and so we waited – again.
A cleverly placed call from Rodney in the back seat to driver Anthony had him thinking what else they'd forgotten, laughter ensued and we settled in to enjoy the pleasant scenery of daybreak.
A close call with a bull that had escaped kept everyone alert and Anthony introduced us to some of the local bird life including close ups with Ocyphaps lophotes & Eolophus roseicapill. While Rodney showed he has more than running ability by giving us a detailed lesson on the life of Sir John Monash.
We reached our destination greeted by cool conditions (about 11°c) collected our timing chips and had a warm up. We bumped into Feral Cheryl Wood who had competed in the Splash part the previous day and was running the 5km event.
At 8.55am we took our starting position and listened to the race briefing where a 10% competitors discount off the price of a chicken parmy at the Terminus Hotel was mentioned, Rodney and Brendon gave each other a knowing glance and at 9.05am we were away.
The course began adjacent to Lake Mulwala winding its way around the scenic out-and-back section to Rams Head. At the end of the loop you were confronted with contra directional competitors making it difficult for Brendon to ascertain who was in front of or behind him. The 5km course returned to the finish at this point and the 10km course continued through the new residential section across the fairways on the golf course and then in reverse back to the finish.
The chute to the finish line was very intimate with spectators either side cheering and holding their hands out for a "low 5". Most runners co-operated resulting in extra cheering.
The Salmons who'd competed in the 5km events returned first with times of 23:44 for Anthony (6th) and Isabella 23:43 first place under 18 female! – Lucky we went back for the shoes.
The 10km runners returned and Rodney claimed 6th place overall but 2nd open male in 37:37 and Brendon was 31st overall and13th open male in 44:50.
Rodney and Isabella accepted their respective cheque and gift voucher, posed for some photos (Rodney was in more than he should have) and we headed off for a hot coffee.
After we ordered a blackout ensued, we hypothesized whose order if any would be processed and in the end Rodney's order prevailed and Anthony accepted a refund as the energy company estimated 2 hours to restore power.
No sooner had we exited the establishment the sound of blinking fluorescent lights was heard along with the roar of laughter from other patrons (and Rodney) who had watched our tale of woe play out live.
We reunited with the Terminus Hotel to claim our discounted lunch along with a couple of cold ones (lemonade for Isabella) a bonus for the best looking male and complimentary chips for Anthony and Brendon.
The purchase of "roadies" encouraged Anthony to let Rodney take the drivers seat and we were home by 3.30pm
A great day had by all with great results as a sweetener!