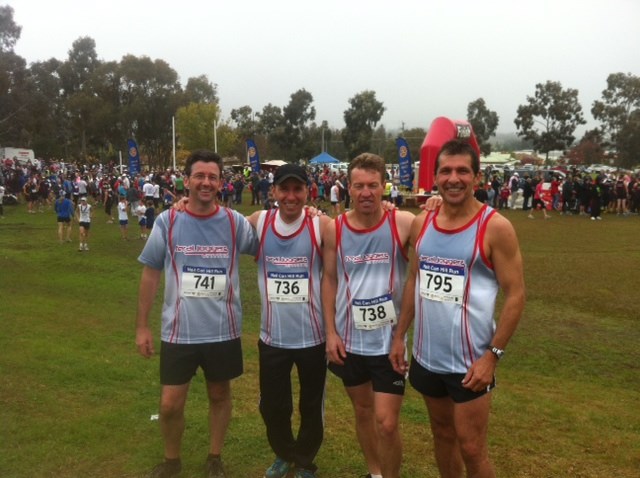 Date: Sunday, May 13, 2012
From: Anthony
Nail Can Hill 2012
The 2nd road trip of the year is complete. It should have been our 3rd but Yarrawonga was not possible due to the recent floods. This time we tackled the infamous Nail Can Hill in Albury, a hill we had read about but never really understood just how tough it is, until now!
Waiting at the starting line it was amazing to see local runners recognize the Griffith Ferals club. Just like at Falls Creek, as a group in our club shirts we are instantly recognisable and people stop to say g'day.
Adam & Sav led the pack of over 1500 runners early on, setting a good pace for the first 2km's before tackling the hill. Heff & Salmon were not taking the hill for granted and paced themselves ready for the challenge that laid ahead. And what a challenge it was. Over the next 2km we rose 150m, which may not sound like much but consider Dom's Dilemma is a 50m rise and you get a better idea. The gradient was quite steep, and as Heff noted "my legs were moving but I had to check that I actually was!"
The rest of the run was enjoyable. We followed the ridge line and then back down the other side to the finish line. Adam, although disappointed with his time, still managed a great result leading the Griffith team home. He came in 28th overall in a time of 46:16m. Sav was 39th in 47:38. The old blokes of Heff (91st 51:20m) and Salmon (241st 58:13m) did well, and even better in their age groups. Overall, we think we did pretty good given the toughness of the early parts of the course.
It was cold. Bloody cold. We stood at the finish line freezing, but lucky Salmon's brother lives in Albury and offered us a warm shower, that we happily (and separately) accepted! A quick trip to The Albion for a couple of schooners and counter lunch and the day was done.
Nail Can is a fantastic run and a real mental & physical challenge. Who is up for the trip next year?