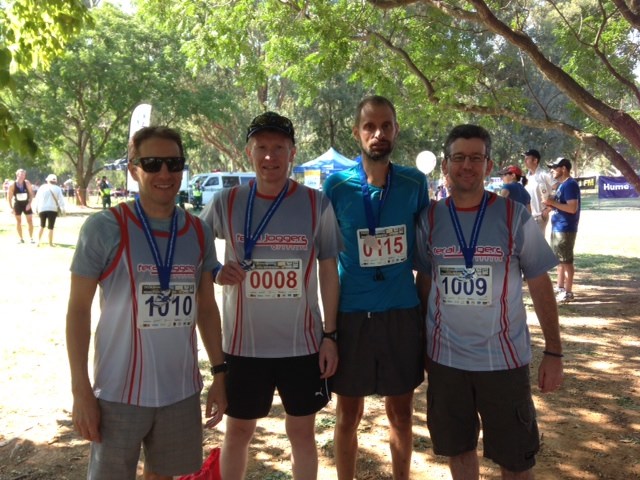 Date: Sunday, February 23, 2014
From: Anthony, Rodney & Brendon
Da Boyz went to Wang ...
Hi Ferals
It was 3 weeks ago but here is the postcard from Wang. Sorry for it being so long but there was a lot to tell! If you put in the website can you say it is from Anthony, Rodney & Brendon (ie not just me)?
WANGARATTA MARATHON - 23rd February 2014
This could be a tale of PB's, tough courses, emotional finishes and the achievement of lifetime goals but all that will probably fade into Ferals folklore after the events of the latest road trip.
The wolf pack may have shrunk in size for this run but we always welcome new members. Rodney Savage and Anthony Salmon were joined by Brendon Sinclair who was attempting to complete his first marathon on his first Feral out-of-town run, the Wangaratta Marathon. Brendon was always going to be a winner this weekend though as Savage and Salmon elected to take on the 10km course, clearly more focused on post-race lattes, chicken parmies and beers as opposed to spending their whole morning running up and down the Ovens River.
We travelled down to Wang on the Saturday afternoon and camped in a fine motor inn, rather reminiscent of your grandmothers bathroom and not much bigger either. Three blokes in one tiny room is one thing - sharing the not-so-private facilities was a completely different matter! Anyway, a quick shower and off to the local Italian restaurant for pre-run carb loading. Sounds easy enough? Not for Salmon, realising he had packed everything in his overnight bag except the single most important item - underwear! "It'll be fine - there are plenty of ways to wear a pair of jocks" claimed Rodney but Salmon was not sure, certainly not after a run. "Go commando" yelled Sinclair. Ah, no. [ed - that's too much info, boys]
The restaurant was beautiful and just what was needed for the morning's run. A glass of red provided the much important iron intake, a proven pre-race necessity to ensure you not only avoid cramps but also assisting with the "cleansing of the body" beforehand. It was noted that Brendon declined a glass.
Next stop, Woolworths. The misson, underwear. Not sure what was more odd looking to observers - Rodney looking down Salmon's pants for his size or Brendon searching through the young boys underwear in the hope of finding the right colour. The mission was finally accomplished and it was back to grandma's for an early night.
With Brendon running at 6:30am and the next race at 7:30, we set the alarms for 4am for an early breakfast and our pre-run preps. It can be pointed out now that Brendon's refusal of a glass of red saw him wrestle constantly with the facilities with no result, not the ideal preparation for a marathon. No problems for the rest of the team.
We take our hats off to the Wangarrata Marathon organisers. This was a superbly well run event with a picturesque course that wound along the banks of the Ovens River, all fully sealed and well maintained. This is one event we will head back to again and we encourage as many Ferals as possible to give it a go next year.
Back to the story. Over 2300 runners competed in a selection of runs, from full and half marathons right down to 10km, 5km and 2km events. Rodney competed very well, coming in 17th overall in the 10km in a time of 38:07 with Anthony producing a time of 47:23, not too bad given the new and as yet untried home-brand underwear.
Brendon's first marathon was achieved in fine style, cracking his target time of 3hr 45min. Just. He looked and felt great for the first 35km but then the effects of not having a drink with the boys started to take hold. Slowly but surely the legs started to cramp up and the pain intensified. But never fear, as Savage & Salmon stood at the finish line waiting for their new hero to arrive, the clocked clicked over 3hrs 44min and Brendon appeared in the finish chute with just 100m to go. NO!!! He stopped! Those cramps locked up his legs and in his own words, "just stopped working". Whilst dreading his decision from the previous evening, the amazing crowed cheered on
Brendon, got him moving again and across the line with 12 seconds to spare. Wow, what a run. Well done.
As we were making our way out of the grounds who do we run into? As seen in the photo, there was Tarek Heiland who also completed the marathon, cruising to 3rd place in the 40+ years age group in a super time of 3hr 10min. Tarek was rightly proud of his achievement - although his next task of driving himself home would probably hurt a whole lot more!
Before the obligatory beers, we checked Brendon into the local aquatic centre so he could freshen up. He was in there for a long time and we were getting concerned we might have to rescue him from the shower if had cramped up. Lucky for us he eventually appeared. "Where the hell have you been?" yelled Rodney. "I had to go" was Brendon's simple reply. Say no more.
Next stop, Yarrawonga and the Terminus Hotel, a place that declared it has 20 different parmies on the menu. Oh yeah! The obligatory chicken parmie and a few schooners were consumed and $3.50 roadies purchased for the trip home. We thought that was cheap until we hit Jerilderie to restock - just $3! If only we stopped in Coleambally on the way through - could they possibly have $2.50 stubbies?
Anthony Salmon, Rodney Savage, Brendon Sinclair