Date: Sunday, March 5, 2023
From: Teresa
Japan was a Blast
We are managing the train system very well, so many friendly helpful people. Crossed the famous Scramble Square at Shibuya! Marathon tomorrow!
I finished! Great day, doesn't get any easier these days! Happy with 4:10 and a qualifier for Boston in my age group by 10mins! Fingers crossed I get in next year and then that completes my 6 Abbott World Marathon Majors!
Waiting at Haneda airport for our flight home, have had a fabulous holiday. Really enjoyed Japan, the marathon, the places and the people. Would totally recommend it as a place to visit!
---
Date: Saturday, November 26, 2022
Running Route 66
Hi Fellow Ferals,
Whilst on our road trip along Route 66 we swung by Springfield, for a bit of Yankee history, and then onto St. Louis where I caught up with 'The Runner'! The locals were very impressed with both my style and speed.
Regards Bob
PS. My Blinky knee is recovering well, though as I explained to the locals, was having a bit of a negative impact on my speed.
---
Date: Friday, February 8, 2019
From: Teresa
I Performed for Trump ... no, Deek
New York Marathon was 4th November, Kim and another 2 friends from Griffith came to cheer me on!
New York starts on Staten Island on the Verrazano-Narrows Bridge and finishes in Central Park Manhattan. Running through the five Burroughs of New York : Staten Island, The Bronx, Queens, Brooklyn and Manhattan.
A very early start, left the hotel by 6am and my wave didn't start until 10:40am, so lots of waiting around at the start. [Like the good old days of C2S : ed] Very well catered for with coffee, bagels etc to help yourself too. We were very lucky with the weather it was a perfect day with a high of 13 and a sunny sky.
The highlight of New York Marathon was meeting Robert DeCastella and his Indigenous Marathon Project runners, they were also in our Travelling Fit group. A fabulous group of very inspiring young people and supporters with individual stories to tell about their journey to make it to the start line of the 2018 New York Marathon.
At the moment the try outs for this years New York Marathon are on with trials happening in various places around Australia. All information can be found on their website: Indigenous Marathon Foundation www.imf.org.au
Three Abbott World Majors completed, three to go. Will be off to Chicago this year in October, then only Tokyo and Boston to go!
---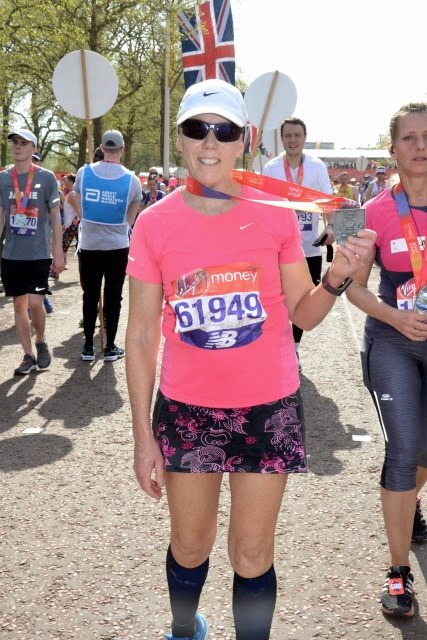 Date: Thursday, February 7, 2019
From: Teresa
I Performed for the Queen
London Marathon 2018!
I have been lucky enough to participate in two Abbott World Major Marathons last year, April 24th in the London Marathon and have New York November 4th.
Both marathons were fabulous with different highlights in each. Both have massive crowd support for the entire 42.295km and loads of bands playing fabulous music.
London runs from Greenwich with wave starts and staggered starting times. Wave groups run separately until 5kms.
It was an early start, leaving the hotel by bus at 7am to get to the start, considering I didn't cross the start line until 10.30am. This year it was the hottest day in the history of the London Marathon. I was hoping for cooler conditions!
The finish is on The Mall in front of Buckingham Palace. I wasn't as prepared for London as New York as I was just coming back from a knee and Achilles injury which impeded me being able to train adequately. I was determined to finish as I wasn't going all that way not to do it! Also had Kim and my three daughters there to cheer me on. We had a fabulous holiday, visiting London, Ireland, Wales, Bath, Germany and Switzerland with a one night stopover in Bangkok on the way home.
---
Date: Friday, January 11, 2019
From: David
Thanks & au revoir
17 Nov 2018 Hi Neil & Joggers
I just enjoyed my last run with the Feral Joggers (and what a track to finish on!). I'm completing my studies in Griffith this week and will be heading back to Sydney for further study next year.
Just wanted to say thanks for having me in the Ferals over the last 9 months. Each week I'm thoroughly impressed at how well organised each run is, and the number of people who turn up to run each week. Moreover, everyone has always been very friendly and welcoming towards me. I've really enjoyed running with your group, and I'll take with me fun memories of my time with the Ferals (though I'm trying hard to forget all my disqualifications and times when I got lost!).
Thanks again, and if I'm ever in Griffith on a Saturday afternoon, I'll certainly pop by for another run.
All the best.