Date: Saturday, February 11, 2017
From: Carmel
Perfect Queensland
Just completed an early morning run in Caloundra on the Sunshine Coast during a recent holiday, mid-January. Perfect weather the entire time we were there, somehow with recent temperatures that we have been experiencing I somehow wish I was still there.
---
Date: Saturday, November 5, 2016
From: Judith
Greetings from Tigers Nest Bhutan
Pleased to say I made it to tigers nest bhutan. The air mighty thin [3120m : ed] but steadily did it. I will never run a marathon but by heck I don't mind a bit of a walk, regards judith
---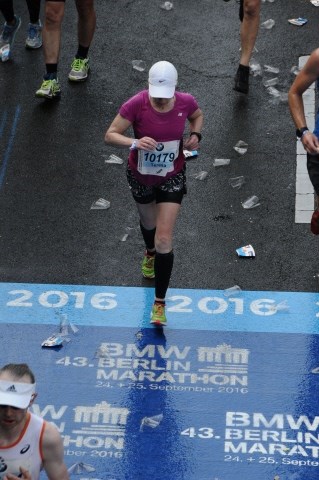 Date: Tuesday, October 18, 2016
From: Teresa
Only Five To Go!?
BMW Berlin Marathon Germany 25/09/2016
Two years ago the seed was planted when Kim and I watched the world record being set by Dennis Kimetto 2:02:57 at the Berlin Marathon. I messaged a close friend of mine who was in Germany visiting their son at the time and she replied let's make it a plan 2016 you run Berlin and we will come and watch.
This was my first International Marathon, over 40,000 runners. I entered through Travelling Fit, (guaranteed entry) very hard to get into Berlin and I had not run a qualifying time so the ballot was the only way, which was unsuccessful last November.
So exciting, first trip to Europe, such a "world-class event that now proudly boasts 10 world records." - Horst Milde.
Australia's own Steve Moneghetti won in 1990, he not only won but was the first runner to break 2hr 10min, his time of 2:08:16 was the fastest in the world which helped pave the way for Berlin to become the world record breaking race over the next 27 years.
As per Horst Milde the race director at the time, "The 17th Berlin Marathon was an athletic international sensation - three days prior to German unification" he says "East and West Berlin had been divided for 28 years and that years race was the first time a marathon could lead through both parts of the city again." Next year Mona will return to Berlin, for the first time since 1990.
This years race was won by Kenenisa Bekele 2:03:03 and he only missed breaking the world record by 6secs.
The highlight of the race for me was not only running in the company of such elite runners in an international event but to run through the Brandenburg Gate with the finish line in sight and the cheering crowd. I was happy with my time of 3:48.
It was fantastic to have Kim, two of our children Sarah and Liam and Sarah's partner Alistair and our close friends Andrea Jordan and her husband Frank Cotroneo there to cheer me on. Also to provide me with German beer and German sausage when I finished.
As Berlin is one of the six marathons in the Abbott World Majors the seed has been planted again, only 5 to go! Would love to complete the world majors, so maybe here I come: New York, Boston, Chicago, London and Tokyo. [That's a definite maybe? : Ed]
---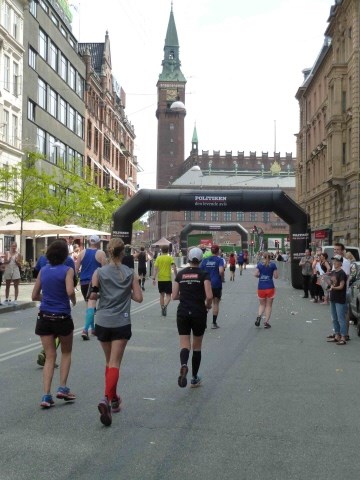 Date: Thursday, September 8, 2016
From: Bob
Running with Vikings
Hi, Like most post cards I'm sure this one will arrive weeks, perhaps months after it has been posted (and I will have been back and bored everyone to tears about it), especially as this postcard is being posted from Ireland! Anyway May and June must be the 'Festival of the Feet' months in Europe, everywhere we went there was some sort of Running Festival and I was quickly running out of excuses as why I didn't enter this, that or the other event! The first event we encountered was in Bergen (Norway) which was a day long event and had everything; full marathon, half marathon, 10k run, 5k fun run and walk.
Here I met my Viking mate who insisted we ran together!!! Arrived in Alborg (Denmark) to learn that their fun run was on the previous weekend. In Gdansk (Poland) their marathon and fun runs were on the following weekend. In St Petersburg (Russia) I stumbled into an orienteering run that seemed to be centred around the St Peter and Paul church. Last prize for this event must have been an all expenses 'extended holiday' in Siberia judging by how serious the competitors were taking it. Then again it was Russia and we played "spot the smiling Russian" during our short stay with very few points being scored. Our next stop was Helsinki (Finland) and yep another fun run. In Stockholm (Sweden) we arrived just in time for the grand final of the Eurovision contest (we were hoping to spot Julia Z but without success) so their Festival of the Foot had been postponed by a week. Travelled by rail to Copenhagen (Denmark) (and yes we went over The Bridge) only to wake up the next morning to the Copenhagen Marathon. Travelling west we had an overnight stop in Odense where they were having their districts Fun runs.
After we left Denmark we had a week in Ireland. While on our trip south of Galway we came upon the town of Doolin which was hosting the Galway District Triathlon, Marathon and 10k and 5k fun runs.
Regards Bob Barker
PS the photos are of me with my Viking mate in Bergen, and in the Copenhagen Marathon (I was really fast over the 100 metres I completed).
---
Date: Sunday, August 21, 2016
From: Carmel
With friends at C2S
Wow what a weekend away. Once again, this small group of ferals left Griffith, for another City to Surf. We decide to leave earlier than planned, the trip was quiet for the first couple of hours till we all really woke up and then the chatter started. The laughs were endless. We went to the Expo at Moore Park, had a look, took some advice, were given some goodies to take home and headed on our merry way to our home away from home for the next 3 nights. Thanks Janelle for your driving skills into peak traffic.
Next day we headed out to see some sights of this amazing city. It never ceases to amaze us. But first of all we had to do some retail therapy, and Myers saw us coming. Coffee break in the food court was a welcome treat, and it was decided to walk to the Rocks via Darling Harbour and Bangaroo Point. What an adventure. And I must add the day was at its glory, sun shining, well appreciated warmth in the sun and most of all the views. Bangaroo Point is well worth the day out, the walk was invigorating. Next thing we were at the Rocks ready to see the tail end of the markets and a well earnt rest at The Mercantile Pub with a cooling ale or two. As the afternoon started to end we decided it was time to head back for tea and rest up before tomorrow's event. Waiting for us for tea was Carmel's Homemade Lasagna, yum yum. It was enjoyed by all. Watched some of the Olympics before having an early night.
Sunday morning the red and green groups were up early for breakfast while the rest of us, the blue group, tried to sleep in. Eventually the enthusiasm got us out of bed and once again joined in the chatter.
At the start waiting for the early groups to start we bumped into Tom, what a surprise to see others ferals at the start line. Sadly that was the last time we saw Tom. We also saw Val and Judith walking around Hyde Park. Linda and I also saw them as we were about to enter the first tunnel, as usual happy to have a chat while they walked. Nice work ladies.
Made it, the beach looked soo good and to see the happy faces of this little group made it all worthwhile. Let's plan to do it again