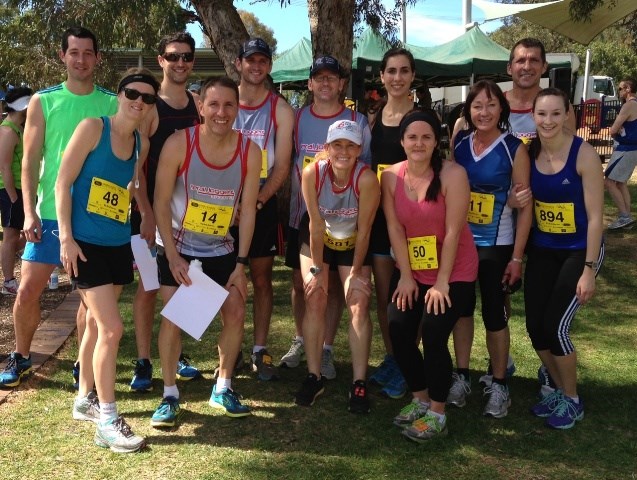 Date: Tuesday, September 10, 2013
Ferals in Wagga
It might have been the biggest representation of Ferals outside of the City to Surf but it was also possibly the darkest day for any touring team. The "2013 Wagga Wagga Lake to Lagoon" saw 14 Ferals compete and 12 Ferals very upset about the events that occurred post-race.
The touring team gathered in Yoogali early on Sunday morning, drawing straws as to who would have to travel in Simon Fattore's car, and then departing for the 2 hour drive east and a quest for glory. Upon arrival the early race talk was around why Tony Abbott, fresh from his election win, was a no-show at this years race. We were certain he would be there for lunch though, understanding that the new Prime Minister might just have something a little more important to do.
It was an absolutely cracking day for running. 25 degrees, clear skies, no wind. Rodney Savage was the best of the local Ferals, taking 12th position again (yes, he finished 12th last year too) from nearly 2000 competitors in a time of 37:35 over the 10km flat course. Michael Joey Johns impressed in 28th with a 40:30, clearly wanting to get the run over and done with and start the real work at the William Farrar hotel. The groups senior citizen collected 2nd place in his age category and 42nd overall. David Heffer proudly displaying the "incontinence.org au trophy" for his great time of 41:42. Completing the performances of note was Glen Rosato, at last putting the demons of the Half-on-the-Hill behind him by collecting 59th position in a time of 42:35.
The other Ferals competing on the day were:
Simon Fattore 78th 44:06
Fiona Fattore 132nd 46:21
Anthony Salmon 134th 46:25
Geoff O'Callaghan 160th 47:35
James O'Callaghan 221st 50:05
Janet Mazzarolo 235th 50:41
Belinda Johns 497th 1:00:04
Kristy Brown 628th 1:08:24
Amanda Heffer 745th 1:17:24
Leanne Heffer 746th 1:17:24
So with the formalities out of the way it was off to our new drinking hole, the William Farrar hotel. Well, not before Janet tried to slip into a pair of skinny jeans in the back of Simon's car. We will leave that story for another day (or just ask Janet)!
We soon worked out why Tony Abbott was a no-show. It had nothing to do with public acceptance speeches – he knew the William Farrar didn't serve chicken parmies and was smart enough not to bother showing up. Well, didn't I cop it! And rightly so. I was trusted with the responsibility of ensuring rule #6 of the touring Ferals code of conduct was upheld and I failed, badly. The rule clearly states "After the run all Ferals must eat a chicken parmie with chips and veges or salad" and I take full responsibility for that not occurring. I must admit I had no idea this was the only pub in Australia that doesn't do a chicken parmie – but I sure as hell do now!
The drive home was painful but it could have been worse – I could have been in Simon's car. The touring party ending up splitting at Yanco. Heff was keen for another well-earned beer so spent the next 3 hours talking to the Yanco locals, whereas others were keen to get home and just forget about the awful events of the day.
Note: the attached photo was taken directly after the run with the smiles indicative of the forthcoming chicken parmies. Alas, it was never to be. Geoff and James O'Callaghan were unable to participate in the photo as they were meeting family at the Union Club Hotel where, by all accounts, they enjoyed chicken parmies followed by an argue-free trip home.