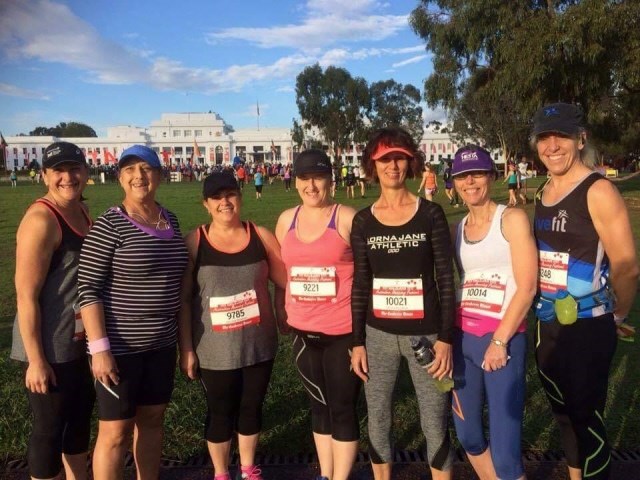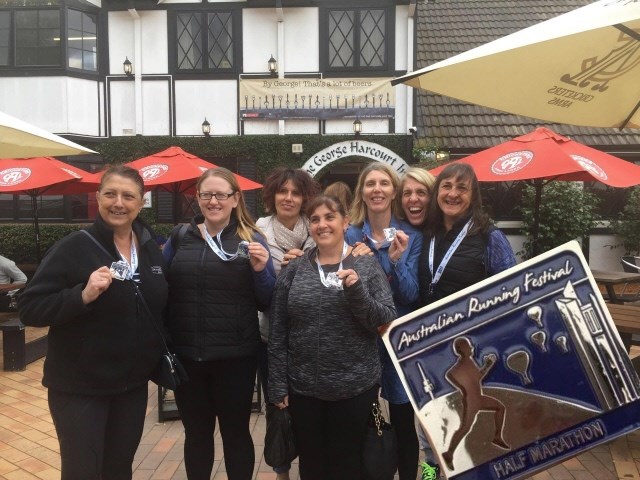 Date: Sunday, May 14, 2017
From: Carmel & friends
Laughs, Butterflies, Medals
Hi Ho we are back on the road again, this time to our nation's capital, Canberra, for the Australian Running Festival, where we all took part in the Half Marathon. Out of the 7, 5 of us completed our very first half. More on that soon.
The road trip was as per usual, laughs, heaps of talking and the mandatory stop for coffee. My husband decided to come away with us this time, somehow I don't think he was quite sure what he got himself into, but he did have a great time away. Friday night we all arrived at a reasonable time not the usual 10pm, we were able to have a lovely tea, catch up with my 2 cherubs before heading off to our accommodation. Saturday was shopping again but not a big one as some ended up going to the art gallery for the Versace display and the rest decided to head back to the unit. Tea was just a short stroll to Kingston, yum yum.
Sunday arrived, I know I had butterflies as I wasn't really sure what I had got myself into but then the rest were up and nerves started to settle. A crisp autumn morning at the start line in front of Old Parliament House, so many starters and soon it was our time. Wished everyone success, off we went, what a great morning for a run. Halfway mark we saw Linda our banana girl. Louanne was running with me, we laughed, talked, took advantage of photo opportunities along the way. We did manage to see Donna and Carissa along the way however not the others. Our aim along the way was to stay ahead of the cut-off time which we had achieved. About an hour into the run the skies had opened and we spent the next hr or so in the rain, not a cold rain. In true feral form we all completed the run, the rain was not going to stop us. Hugs and cheers were at the finish line and that lovely half marathon medal. Quite an achievement.
Back to Kingston for warm showers and heading to lunch at the Harcourt Inn in Gold Creek. A great place for meals folks if ever in need of yummy food and the atmosphere is great. And now it was time to leave our nation's capital and head home where our final stop was in Harden for the mandatory cuppa and to reflect on what we had achieved. Not only was it another great weekend away but most important a memorable one. Louanne Donna Carissa Mirella and I all completed our first Half Marathon, Julie and Janelle their third.