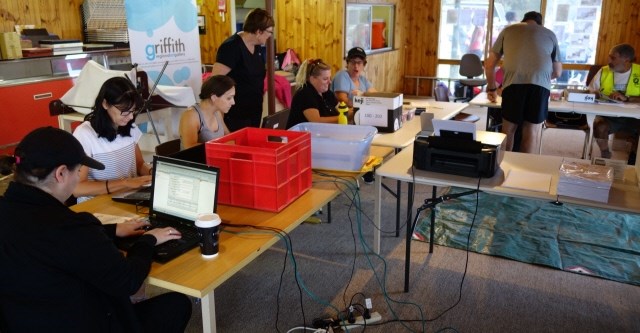 Date: Saturday, March 26, 2016
From: Neil
Postcard from Timing Central
What a day. Thanks heaps to the St Pats helpers. They were flawless, none of the day's chaos was their fault. It helped this year that we had 400 online entries, and needed to cope with only 100 on the day. (Last year 200 pre entry and 300 on the day) This is a HUGE PLUS for accuracy and sanity.
So what went wrong? The problem was down at the mats, which were not reading all the bibs. Early in the race they were reading about 10% of the bibs, improving to about 95% later on. We had trialled these tags at the Half on the Hill without trouble. We are told they should read better than the shoe tags. More investigation required.
It was difficult, but we did get the prizegiving correct in the end. Apologies to Angharad who got her prize but missed her moment on the podium. And thanks to David for putting us straight.
So although our certificate printing was working fine, we could not proceed as the certificates would have had missing times, and way wrong placings.
How did we get the times then? The GoPro takes one photo per second, so we matched runners without times between those runners with times. Your time is correct to the nearest second.
ps Yes, I did spill coffee all over the laptop and almost stuffed it, but it dried out and is still working fine ... surely that's covered by warranty?