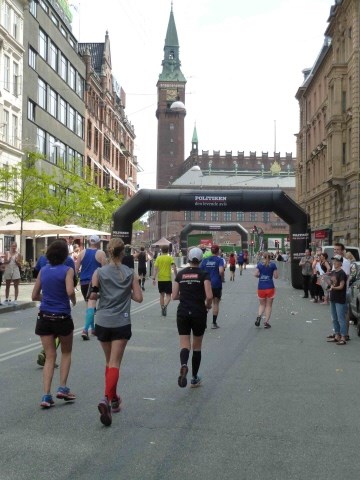 Date: Thursday, September 8, 2016
From: Bob
Running with Vikings
Hi, Like most post cards I'm sure this one will arrive weeks, perhaps months after it has been posted (and I will have been back and bored everyone to tears about it), especially as this postcard is being posted from Ireland! Anyway May and June must be the 'Festival of the Feet' months in Europe, everywhere we went there was some sort of Running Festival and I was quickly running out of excuses as why I didn't enter this, that or the other event! The first event we encountered was in Bergen (Norway) which was a day long event and had everything; full marathon, half marathon, 10k run, 5k fun run and walk.
Here I met my Viking mate who insisted we ran together!!! Arrived in Alborg (Denmark) to learn that their fun run was on the previous weekend. In Gdansk (Poland) their marathon and fun runs were on the following weekend. In St Petersburg (Russia) I stumbled into an orienteering run that seemed to be centred around the St Peter and Paul church. Last prize for this event must have been an all expenses 'extended holiday' in Siberia judging by how serious the competitors were taking it. Then again it was Russia and we played "spot the smiling Russian" during our short stay with very few points being scored. Our next stop was Helsinki (Finland) and yep another fun run. In Stockholm (Sweden) we arrived just in time for the grand final of the Eurovision contest (we were hoping to spot Julia Z but without success) so their Festival of the Foot had been postponed by a week. Travelled by rail to Copenhagen (Denmark) (and yes we went over The Bridge) only to wake up the next morning to the Copenhagen Marathon. Travelling west we had an overnight stop in Odense where they were having their districts Fun runs.
After we left Denmark we had a week in Ireland. While on our trip south of Galway we came upon the town of Doolin which was hosting the Galway District Triathlon, Marathon and 10k and 5k fun runs.
Regards Bob Barker
PS the photos are of me with my Viking mate in Bergen, and in the Copenhagen Marathon (I was really fast over the 100 metres I completed).