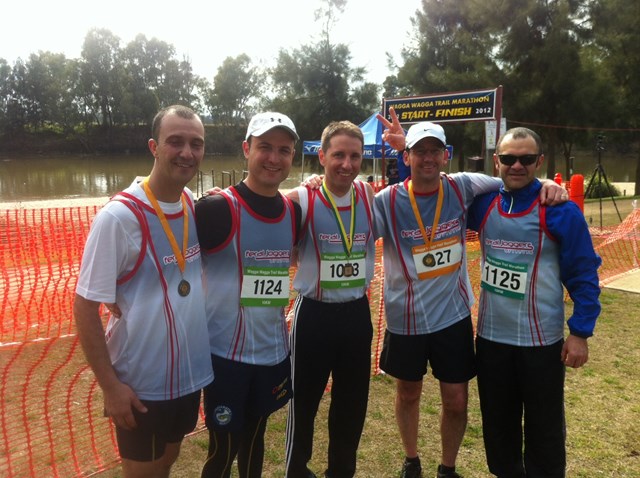 Date: Sunday, August 19, 2012
From: Anthony
Dateline: Wagga Wagga - August
Another road trip, another run. Wagga was the destination this time around and the Trail Marathon our target. OK, none of us were game to tackle the full 42k marathon but we were determined to do the Ferals proud.
Savage, Trefilo and Gullo lined up for the 10km "sprint" and showed the Wagga folk how it is done. Savage came in 3rd with a blistering time of 38:55min, beaten to the line by a couple of whipper snippers whose combined ages were still less than his! Interesting to note that one of those young guns is the younger brother of Australian Olympic triathlete Brad Kahlefeldt, showing just how good this field of runners was. Not to be outdone, Trefilo was not far behind in 4th with a time of 39:55min, pushing Savage most of the way. Gullo put in a brilliant time of 43:42 mins, one of his fastest 10km runs on record, and nailed 10th place as a result. Getting all 3 Feral runners into the top 10 (from 93 runners competing) was fantastic. Great work team!
The half marathon saw Restagno lining up for his 2nd attempt at the title after coming so close last year (2nd place, but only after some dodgy course markings - no where near the quality of courses Adam produces on Scenic Hill)! One thinks that Vince's viewing of the movie Magic Mike the night before the run may have been an omen - he lined up at the starting line and pointed out the guy with shaved legs standing next to him. "Check out his legs - any bloke who shaves his legs can run. He will win for sure." And so it was. Whoever this guy was, he blitzed the field but Restagno still managed a very respectable 4th place in 1hr 32:34min, a great effort on one of the toughest 1/2 marathon courses we have tackled. The 1st 9km's was all up hill and the last 7km was a mixture of mud and sand as we followed the river bank back the Wagga beach.
I was happy just to finish. I managed to get over the line in 1hr 52:50min and 30th position (from a field of over 100) but my inability to walk as I write this postcard tells the full story! I've never tackled a run so darn tough. Lucky Restagno brought some Coronas for us to enjoy after the race.
The drive home was very tiring for everyone. Everyone that is except Vince. The last time we saw him was in Galore, overtaking our car, chauffeured by Nicole, stretched out in the passengers seat reading the Sunday paper!
Another great day and another town graced by the presence of the Griffith Ferals. Next run is the Wagga (again) Lake to Lagoon next month - anyone keen to join us for a little more fun?