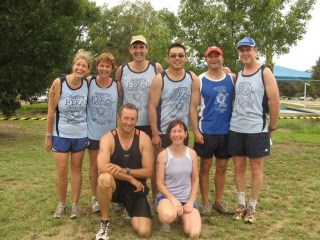 Date: Sunday, February 6, 2011
From: Wendy
Wendy and her mates at the Ganmain Triathlon on Feb 6
I lay awake Saturday night listening to the rain pouring down. Didn't look too good yesterday morning either but there was only a smattering of rain on the way across and I don't think it rained at all during the event. The ground was muddy and the pool was like a warm bath full of wet grass but the cool weather was good to run/ride in.
We ferals made up 10% of the 82 strong field and you will notice that without conferring beforehand most of us wore feral shirts. I kicked myself for not wearing mine.
We didn't take out any prizes - the Leeton competitors were strong but we enjoyed ourselves and didn't do too badly. Times will be up on the website shortly.
We stopped at two pubs on the way back - Grong Grong and Narrandera. Got home around 3.30 so it was a full day.
Hope I'm not making you feel too nostalgic for your triathlon days. There's always Hillston if you feel like getting back on the bike....