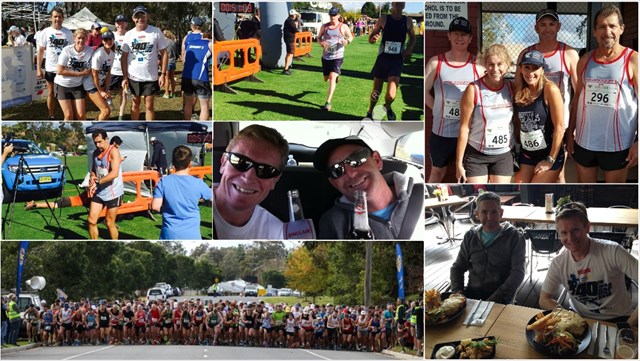 Date: Friday, May 6, 2016
From: Brendon
The Horror, The Pain ... what pain?
Scientists say the brain doesn't remember pain and that theory is well and truly reinforced at Albury's 11.3km Nail Can Hill Run. You remember you've run it several times before but when you're heading up that hill you just don't remember it hurting as bad as that.
2016 saw the 40th running of the event which continues to grow and with 929 finishers this year it made for a great atmosphere at the start and finish lines. Heff, Mrs Heff (Leanne), Jeremy and Brendon commuted together, Janet took the "scenic" route courtesy of her Sat Nav and we met an eager Lena at the start. Conditions were cool with the strong gusting winds at times threatening to tear off your race bib. Thankfully the predicted four-to-six inches of rain were replaced by a few heavy showers in the 48 hours leading into the race leaving the track in reasonable shape.
Brendon was, unusually, the first Feral across the line in 53.38 with Heff only 25 seconds behind him. Lena (58.52) was more than two minutes faster than her 2015 race time and Janet was eighth in her category with her time of 63.07. "Mr Consistent" Jeremy posted 61.46, an almost identical time to 2015 proving that one training run per week is definitely enough.
Paddy's Irish Pub was our lunch destination this trip and the parmies were up there with the best (and biggest) and as usual the beers were hard to beat too.
What happened to Leanne I hear you ask? After enjoying breakfast with her daughter from Melbourne she met us at the finish line, and no she wasn't the designated driver, well at least not until we got back to Leeton where Heff enjoyed a "couple" of well-earned cold ones!
We'll be back next year, some for the fun, others to settle unfinished business and… I've already forgotten how much it hurt!
David, Leanne, Jeremy, Janet, Lena and Brendon