Gory Details from Wang (read at your own peril)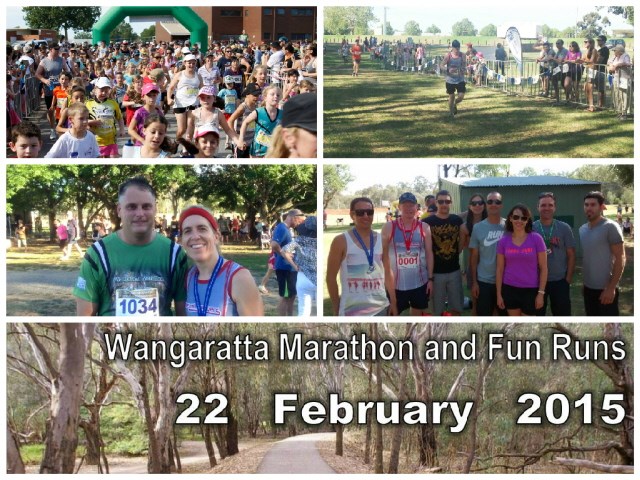 Date: Saturday, February 28, 2015
From: Brendon
Postcard from Wangaratta Marathon and Fun Runs 2015
21/2/2015
On the road to Wangaratta the afternoon before the 2015 race with Rodney leading the way. Brendon was riding shotgun with Half Marathoners Aiden and Derek in the back. Closely following behind was Vince who was cruising in Rodney's draft improving his fuel economy as each kilometre passed. Nicole, Simon and Fiona were passengers and each had the 10km race on their mind.
We almost pulled up at Jerilderie for a loo stop before realising Anthony Salmon hadn't joined us this year and we'd no need to consider his thimble sized bladder so we pushed on. In hindsight the break from Rodney's "Dad" jokes would have been welcomed.
After dodging a herd of cows that weren't mooooving too fast (very funny Rod), Rodney made a last minute decision to turn onto Yarrawonga Road he almost ended up with Vince in his rear end, lucky for all concerned Nicole's back seat driving expertise swiftly guided them out of trouble.
We soon arrived at our accommodation and found the pool for a quick swim, then off for a meal in literally one of Victoria's hottest restaurants. 35 degrees outside and about 45 inside, on the upside it helped us acclimatise to the forecast high temperature for race day.
The discussion at dinner included how to best measure the serving size of a pasta dish, the quality of the "Coles" garlic bread on offer, how Aiden was going to get thought the small cow he'd just ordered and race strategy with Vince "Waterhouse" offering odds on any given result for the following day. The value bets were quickly taken up by those in the know.
22/2/2015
The alarm sounded at 4:45am to awaken all for a bite to eat and the five s' (shower, shave, shampoo, s#!t and sunscreen for those with fair skin) with Derek proving best at item four, even the exhaust fan laboured extracting the thick odour.
We arrived at the track at 6:00am for a warm up and the race briefing with Brendon first away in the marathon. Derek and Aiden were off at 7:00am with the rest away ten minutes after.
Easily recognisable in our club tops there was plenty of support on course from spectators and competitors alike. And in true Feral style as each jogger finished one by one they stood trackside to cheers on their fellow Ferals over the finish line.
It was apparent conditions were tough as competitors were carried unconscious off course to awaiting paramedics and the visible blood stained shirts associated with ANC (Acute Nipple Chaffing). However we all came through relatively unscathed and stronger for our achievements.
After freshening up we hit the road and called in to see our good friends at the Terminus Hotel in Yarrawonga for the traditional post-race lunch and refreshments. Special of the day was Parmie and a Pot, they must have known we were coming.
The take away refreshments left Derek with a severe case of hiccups which we believe were corrected by an unknown technique performed by a gentlemen at those public toilets in Jerilderie.
17 Ferals competed on the day and we placed 13th out of 46 in the community team challenge. We came away with fond memories of a great weekend, some with impressive PB's, others with unfinished business to be added to the 2016 agenda.
Results
5km

Name

Position

Time

Category Position

The Guy Who Won

1

17:30:00

1

Ava Kelly

56

26:01:00

3

Val Centofanti

353

42:06:00

68

Kellie Kelly

354

42:07:00

69

The Guy Who Was Last

547

1:20:03

69
10km

Name

Position

Time

Category Position

The Guy Who Won

1

32:40:00

1

Rodney Savage

13

38:19:00

6

Vince Restagno

16

39:18:00

4

Julie Duncan

45

45:22:00

5

Nicole Restagno

48

45:31:00

6

Simon Fattore

56

46:09:00

22

Robert Kelly

61

46:48:00

20

Keith Riley

127

52:40:00

35

Fiona Fattore

180

55:49:00

36

Mark Duncan

299

1:07:01

71

The Lady Who Was Last

514

2:08:58

143
Half Marathon

Name

Position

Time

Category Position

The Guy Who Won

1

1:15:40

1

Aiden Fattore

18

1:27:43

9

Jessie Wythes

41

1:35:33

4

Derek Goullet

45

1:36:15

23

Maree Rainbird

255

2:21:58

39

The Lady Who Was Last

297

3:53:18

55
Marathon

Name

Position

Time

Category Position

The Guy Who Won

1

2:40:59

1

Brendon Sinclair

58

3:45:50

23

The Guy Who Was Last

178

5:57:53

80