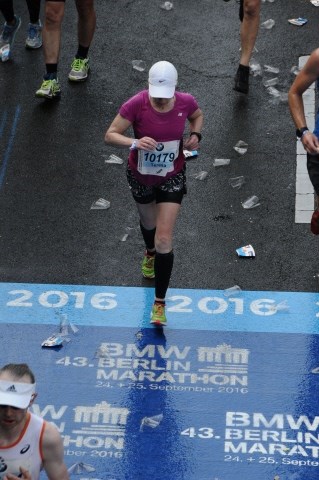 Date: Tuesday, October 18, 2016
From: Teresa
Only Five To Go!?
BMW Berlin Marathon Germany 25/09/2016
Two years ago the seed was planted when Kim and I watched the world record being set by Dennis Kimetto 2:02:57 at the Berlin Marathon. I messaged a close friend of mine who was in Germany visiting their son at the time and she replied let's make it a plan 2016 you run Berlin and we will come and watch.
This was my first International Marathon, over 40,000 runners. I entered through Travelling Fit, (guaranteed entry) very hard to get into Berlin and I had not run a qualifying time so the ballot was the only way, which was unsuccessful last November.
So exciting, first trip to Europe, such a "world-class event that now proudly boasts 10 world records." - Horst Milde.
Australia's own Steve Moneghetti won in 1990, he not only won but was the first runner to break 2hr 10min, his time of 2:08:16 was the fastest in the world which helped pave the way for Berlin to become the world record breaking race over the next 27 years.
As per Horst Milde the race director at the time, "The 17th Berlin Marathon was an athletic international sensation - three days prior to German unification" he says "East and West Berlin had been divided for 28 years and that years race was the first time a marathon could lead through both parts of the city again." Next year Mona will return to Berlin, for the first time since 1990.
This years race was won by Kenenisa Bekele 2:03:03 and he only missed breaking the world record by 6secs.
The highlight of the race for me was not only running in the company of such elite runners in an international event but to run through the Brandenburg Gate with the finish line in sight and the cheering crowd. I was happy with my time of 3:48.
It was fantastic to have Kim, two of our children Sarah and Liam and Sarah's partner Alistair and our close friends Andrea Jordan and her husband Frank Cotroneo there to cheer me on. Also to provide me with German beer and German sausage when I finished.
As Berlin is one of the six marathons in the Abbott World Majors the seed has been planted again, only 5 to go! Would love to complete the world majors, so maybe here I come: New York, Boston, Chicago, London and Tokyo. [That's a definite maybe? : Ed]