*I've added a picture of our Melbourne President and his friend Nick from the 2005 Joggers' Dinner. [ed]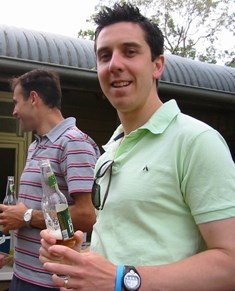 Date: Saturday, February 21, 2015
From: CJ O'Neill
Feral Postcard From the President of the Melbourne Chapter
Mein Gott, time goes quickly. Hot off the press is that our favourite Zimbabwean import (Hansie) is married to a german girl, living in France, working for the UN in Switzerland and has 3 cats and a dog. Either that or he's a spy and just thought he'd feed come ludicrous story and I'd believe it. The last I caught up him was on a caldera (look it up) in Northern Sumatra, having omelettes laced with 'medicinal' mushrooms, so I'm willing to bet the 3 cats and a dog line is false.
The O'Neill's of Caulfield North are no longer, given that Kate found herself 'in the family way' once again last year and we had to decamp to Murrumbeena as the brood expanded once more. My miserly engineers wage now has to feed five hungry, whinging mouths, but thankfully the 5th is Archie the wonder-dog, and he doesn't ask for much. Kate's going well, off this year again with baby Anna, but still working for our state's finest. Alex has my good looks, charm and wit, so I'm sure he'll go far in life.
Running is mostly a hazy memory, but I did do 6 k's on Tuesday night. On Wednesday, I felt like I'd given birth, so I've decided not to pull on the runners for a few weeks to let the swelling go down.
Work is good. I'm in India once a month and keeping out of the papers. Caught up with that cheetah-like embodiment of fitness, Ben Chopping, in Sydney a few weeks ago. I'm happy to report, he knows how to down an iced coffee and two doughnuts just like the old days.
I don't have an e-copy of my family portrait, but found this one on the world-wide-web, and I think you'll agree, the resemblance is uncanny (That's me, second from right, or far left, I'm not 100% sure).