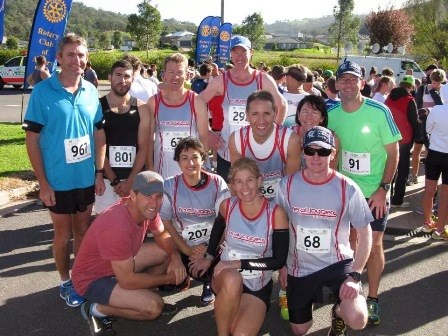 Date: Saturday, May 31, 2014
From: Rodney, Adam, Janet, Wendy, Elizabeth, Aiden and Brendon.
Nail Can Hill
Another year, another set of victims for Nail Can Hill. This years travelling group joining Rodney and Adam included Janet Mazzarolo, Wendy Minato, Elizabeth Heffer, Aiden Fattore and Brendon Sinclair.
As we assembled at 5am news broke there was a late scratching from the team. Good news for those travelling in Rodney's Prado. It meant their business class seats had been upgraded to first class. A quick head count later revealed the Prado had seven seats available for the seven bums that were present and the first class leg space was quickly reduced to economy.
We set off for Albury and true to form Rodney failed to negotiate the first set of traffic lights immediately striking out on a red. Half an hour later in Leeton later it was strike two.
The early morning conversation was patchy and a joke telling competition was agreed on to help pass the time. Elizabeth's first effort threatened to collapse the contest but she managed to save it with her second attempt.
We reached Lockhart for a pit stop and the "Disabled/Women" sign on the facilities had Janet doing laps of the block searching for the "Women Only" sign not realising it was reserved for women AND the disabled.
We arrived in Albury and made our way to the finish area and reluctantly exited the vehicle to be greeted by 7 degrees which reduced to an icy 3 by the wind factor. We switched into our running gear and grabbed a bus back to the start line to collect our race bibs and then found a sunny sheltered area to prepare for the start. Before the race we caught up with the ferals who'd travelled separately. Anthony Salmon had arrived days earlier to test some new shirts on the course, he was with his brother (a really nice guy, not at all what you'd expect). Ex-Feral Paul Childs, Peter Pearson, Jeremy Woodhouse and Simon Bonny were there too. We all posed for the obligatory pre-race photos and made our way into the warmth of the 1290 strong starting pack.
If you have read Anthony's Nail Can Hill postcards from previous years you'll know just how brutal the 11.3km race is. It's not until you reach the base of the climb and look up for the first time that you really understand just how steep these hills are and they just keep coming. The minute you think you're at the top, you round the next bend only to find another hill. What you forget though is that you have to come back down and the descent is far harder to negotiate and way more dangerous.
Most were happy with their respective results which are listed below and include 7 PB's and outright 3rd in the team's event. Adam was filthy about the team coming as low as third (he's not used to being much less than second) claiming it was Aiden's fault for not registering in the team.
With the "Nail" part over it was off to the Albion Hotel for some "Cans" and a parmy. Soon after, we all piled back into the Prado to begin the return journey. 60km into the trip Aiden couldn't hang on any longer and Rodney pulled over near some dry looking trees. We're not sure what caused Aiden's "stage fright" maybe the 150 decibels of the Prado's horn playing for all passing traffic to hear. His failed attempt forced another stop, this time at the Walbundrie Pub so Aiden could have some privacy. As we entered through the swinging doors the piano player stopped and the two locals looked us up and down. The publican said the bathroom was for customers only so Brendon obliged by buying a round of soda waters. With his establishment rarely that full the publican hurriedly lit the fireplace in hope we may be in for a prolonged session. Rodney noted the pub menu would be a definite option for lunch next year with plenty of favourites to choose from at genuine 1982 prices.
We finished our "water's", dragged Wendy away from her new mates and hit the road for home with plenty of laughs and some great memories.
| | | | | |
| --- | --- | --- | --- | --- |
| | Overall Position | Gender Position | Category Position | Time |
| The Guy Who Won | 1 | 1 | 1 | 40:11:00 |
| Peter Pearson | 9 | 9 | 6 | 44:07:00 |
| Aidan Fattore | 28 | 28 | 14 | 47:27:00 |
| Adam Johnson | 30 | 30 | 9 | 47:46:00 |
| Rodney Savage | 31 | 31 | 16 | 47:48:00 |
| Brendon Sinclair | 194 | 169 | 84 | 56:35:00 |
| Jeremy Woodhouse | 289 | 232 | 112 | 1:00:22 |
| Janet Mazzarolo | 352 | 80 | 6 | 1:02:36 |
| Anthony Salmon | 378 | 290 | 64 | 1:03:43 |
| Simon Bonny | 379 | 291 | 65 | 1:03:44 |
| Wendy Minato | 528 | 170 | 48 | 1:08:31 |
| Elizabeth Heffer | 738 | 296 | 136 | 1:16:56 |
Teams event
| | | |
| --- | --- | --- |
| | Place | Result |
| Fab4Fitness | 1 | 3:04:26 |
| Wodonga Athletic Club | 2 | 3:06:09 |
| Griffith Feral Joggers | 3 | 3:16:18 |
| Vogel's Vixens | 4 | 3:19:24 |
| Wagga Road Runners | 5 | 3:27:23 |
| Step into Life Albury | 6 | 3:40:17 |
| Paterson Street | 7 | 3:47:21 |
| Thurgoona Country Club | 8 | 3:51:33 |
| Health Culture | 9 | 3:52:54 |
| Charles Sturt University | 10 | 4:00:58 |
| UNSW Albury | 11 | 4:18:26 |
| Trinity Anglican College | 12 | 4:19:42 |
| Pocket Rocket's Run Club | 13 | 4:58:05 |
| For Pete's Sake | 14 | 5:14:13 |
| Beechworth Boot Camp Girls | 15 | 5:48:33 |