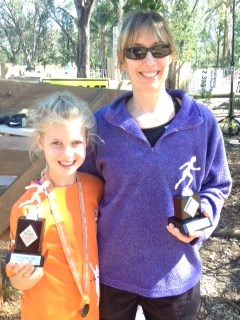 Date: Sunday, September 9, 2012
From: Kellie
Postcard from Dubbo!
It was Father's Day with a difference for a group of Griffith Feral Joggers today!
The Dubbo Stampede took place at Taronga Western Plains Zoo from 7.30am!
The Kelly, Wood, Andreazza, Piccoli, Salvestro and Maloney families all participated in the Stampede. The 5.5km "Dingo Dash" was run entirely within the zoo and the 10km "Cheetah Chase" down the road to the historic woolshed and back into the zoo.
At 7.30am all 1800 participants (except for Robert Kelly who was running in the 10 km Cheetah Chase) lined up for the 5.5km "Dingo Dash". We were asked to self seed behind signs of "Sub 20 minutes", "Sub 30 minutes" and "Sub 45 minutes".
From my own knowledge, Ava and Cheryl started up the front and the rest of us behind!
It was a "verbal count down" start, so as not to scare the animals! We all "filed slowly over" the Start/Finish line and then it was on!
There was no sign of Ava and Cheryl for the entire race, but I did come across Marg, Elizabeth and Nicholas Andreazza going past the Rhino exhibit! The kids joined me and Marg took the opportunity to "dash" off!
We had a great run, chatting, looking at the animals and encouraging each other along. Running past the animals was an awesome experience! Although the "agitated" Water Buffalo and Mongolian Horses did have Elizabeth and I worried as they ran towards the fenceline!!
Rob Kelly ran the 10km "Cheetah Chase" in 45 minutes and was pleased with his time. He said he enjoyed the run and running past the elephants on the fence was "pretty cool".
We all received a medal for participating.
Participants had to "check" if they had placed in their age group. Lucky we did because Ava came 2nd in the Female U9 category and Cheryl came 3rd in her age group. Each were proudly awarded a trophy for their efforts!
This was only the second year the Stampede has been run. It was extremely well organised with entries taken prior to the race and with a cut off number of participants. It ran smoothly and professionally. It was a fun, enjoyable and unique experience.
I highly recommend it to all Feral Joggers next year. We will be putting it in our diaries for 2014. Come and join us!