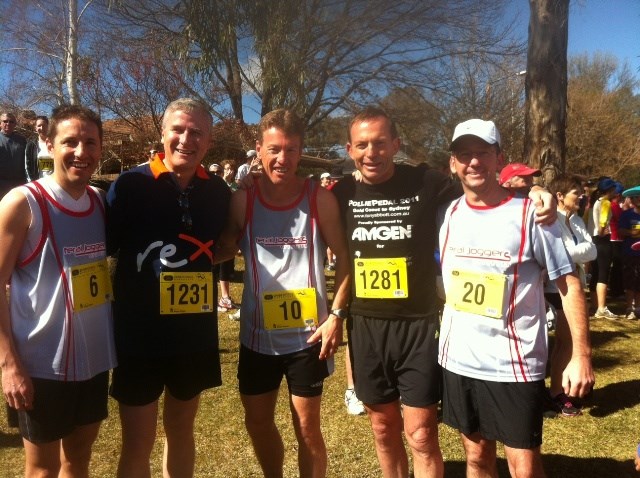 Date: Sunday, September 9, 2012
From: Anthony
Our Feral Boys found some other feral boys at the Wagga Lake to Lagoon
Hello again! Here's another postcard - I think you should rename the Postcard page to the Savage/Salmon/Johnson page!
Hello again fellow Ferals
Back to Wagga for another run, this time the shorter 9.5km Lake to Lagoon "fun" run. Heff couldn't make the trip this time - the old man couldn't back up from the Griffith races. He is just not the Heff of old anymore. That's a pity because it was a great road trip and full of surprises.
As we lined up at the starting line Adam screamed out with joy - "That's Tony Abbot!". Photo moment. Yep, Tony Abbot & Michael McCormack were even more excited than Adam to get a photo with the Ferals.
On to running. A field of over 2000 competed in fantastic weather. Savage and Johnson finished 12th & 13th (34:46 and 34:52 respectively) and Salmon was a little further back running 42:04 (19th in his age group).
It felt good to finish, well until Savage tells us his lost the car key! After debating whether the key simply fell out of his pocket or Michael McCormack nicked during the photo shoot, we desperately starting calling family members and mechanics to see if we could snare a lift home or hot wire the Hilux. Savage to the rescue - "let's put a call over the PA system and hope like hell someone finds the key". Good idea but what are the chances of finding a key on the levee banks of the Murrumbidgee River? Anyway, miracles do happen - Adam asks the announcer if she could put a call out for the missing key and she simply smiles and presents the key! Relief all round. Apparently a young fella found the key and handed it in. Not sure if we were happier about the fact we had a car to drive home in or that we now had access to our wallets to buy a beer!