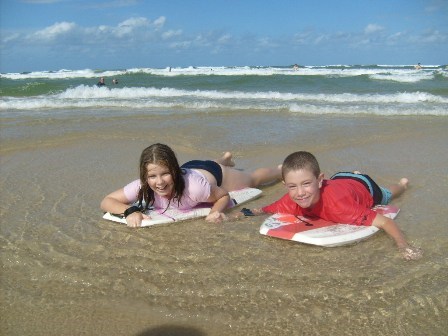 Date: Sunday, May 31, 2009
From: Jennifer
from the Gales ... Gold Coast Chapter of the Ferals
I can't believe it has been a year and a half since we moved to The Gold Coast and what a journey it has been. We have been busy and find it hard to fit everything in that we want to do.
Jen did the Gold Coast half marathon last year; she then went on to compete in the Gatorade triathlon series. She was able to compete in four and went from 38th in her first race to fifth in her forth race. Last weekend she went to Noosa and swam in the 2km ocean swim which she was not than keen to do as she is not a big fan of swimming in the ocean.
Chris has also been busy with his karate and now holds the state title for non contact and runner up state title for full contact.
Taylor and Mitchell have been trying their hand at a few different things and even had a go at the Kool Kids triathlon and both did really well.
We are all planning to have surf lesson when it warms up again and we are all looking forward to the triathlon series to start up again in October.
We live about 10kms from Dream World and have annual passes so we hang out there a bit on weekends as well.
We are all enjoying the new experiences and if you guys are up this way give us a call.
Chris, Jennifer, Taylor and Mitchell Gale