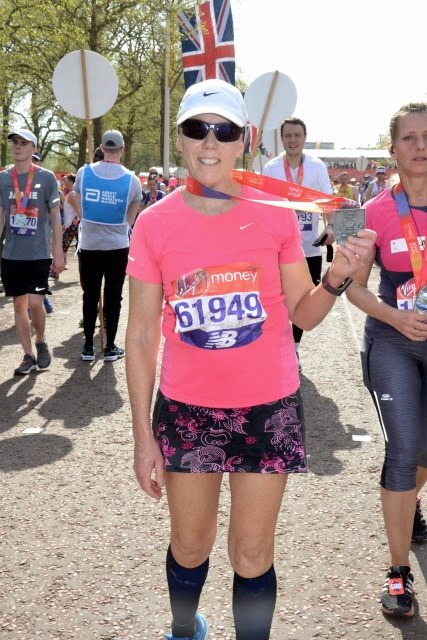 Date: Thursday, February 7, 2019
From: Teresa
I Performed for the Queen
London Marathon 2018!
I have been lucky enough to participate in two Abbott World Major Marathons last year, April 24th in the London Marathon and have New York November 4th.
Both marathons were fabulous with different highlights in each. Both have massive crowd support for the entire 42.295km and loads of bands playing fabulous music.
London runs from Greenwich with wave starts and staggered starting times. Wave groups run separately until 5kms.
It was an early start, leaving the hotel by bus at 7am to get to the start, considering I didn't cross the start line until 10.30am. This year it was the hottest day in the history of the London Marathon. I was hoping for cooler conditions!
The finish is on The Mall in front of Buckingham Palace. I wasn't as prepared for London as New York as I was just coming back from a knee and Achilles injury which impeded me being able to train adequately. I was determined to finish as I wasn't going all that way not to do it! Also had Kim and my three daughters there to cheer me on. We had a fabulous holiday, visiting London, Ireland, Wales, Bath, Germany and Switzerland with a one night stopover in Bangkok on the way home.