Date: Thursday, October 12, 2017
From: Werner from Karlsruhe
Birdseye of Berlin
The card from Werner on Postcrossing of the Berlin Marathon of 1991. This was Werner's first marathon. It's enough to give a person goosebumps, hey Teresa.
---
Date: Tuesday, August 29, 2017
From: the winners
Greetings from Nericon
Wish you were here.
---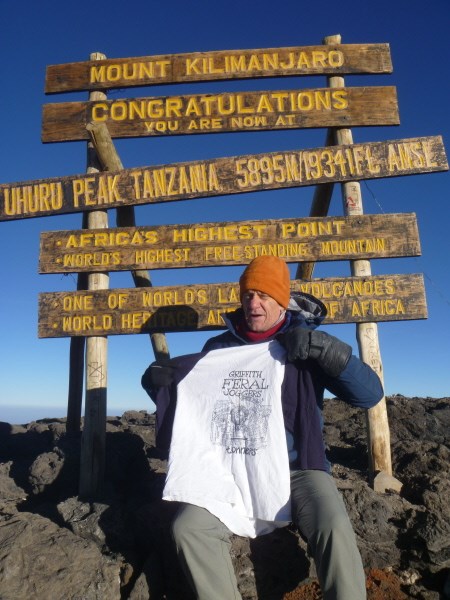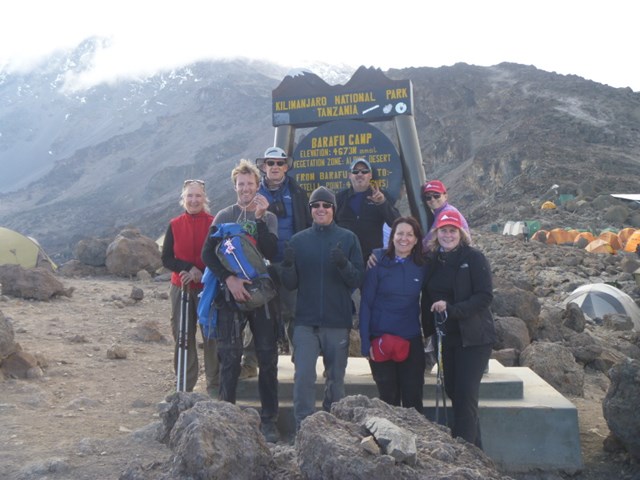 Date: Saturday, August 5, 2017
From: Tom
"slowest ever 5km"
Ferals Steve, Judy, Matt and Tom, were among a group of trekkers from Griffith, Forbes and Scone to recently travel to Africa to scale Mt Kilimanjaro, the highest free standing mountain in the world.
We arrived in Arusha, Tanzania, after a couple of long flights and met up with our team of guides, porters & cooks. We headed off from Mechame Gate after lunch, in a drizzle suitable for the rain forest we were walking through. The first night was at 2835m above sea level, higher than Mt Kosciuszko and at the point where the vegetation changed from rain forest to more open forest and vegetation.
The following day was spent climbing up a single ridge, moving onto more open vegetation until finally it became small shrubs and bushes and alpine flowers. After about an hour, the porters started overtaking us. Each porter carried their own back pack and a further load of 20kg which may have comprised of our main pack, food, gas bottles, chairs, tables, tents and anything else needed by the whole party for the trek. These guys are well acclimatised to the conditions and trot past quite happily with their load perched on their head. By the time we got to the next camp, it was already set up.
On the other hand, we we going "pole pole", that is, slowly slowly, at a pace set by the guides. No rush for us, we needed to travel slowly and drink plenty of water to make sure we acclimatised to the altitude and didn't get sick.
Camp on day 2 was at 3750m. The following morning we climbed to 4600m by lunchtime and this is where the altitude started to take hold. Breathing started to become harder in the last half hour or so and everyone knows what I sound like when I am breathing heavily. By this point, a couple of the group were starting to feel the effects of the altitude. We had a hot lunch in the meal tent under a tower of lava and with a magnificent view of the summit that we were to get to. The afternoon's walk down to our camp at 3900m was one of great pleasure. Magnificent scenery and unusual vegetation.
The next morning, we faced The Wall, a steep section which was mainly rock hopping that took us up another 400m in under 2 hours. From my point of view, it was great fun, paid for by the rest of the day, climbing up & down a few ridges. After lunch, we had a long slog up to the Barafu camp at 4673m. We arrived there about 4:00pm, had an early dinner & a rest before we headed off at 11:00pm that night to climb to the top.
What a superbly clear night it was for the climb, with the waning moon rising after a couple of hours. Unfortunately, that made it very cold. Water bottles were freezing up, even though they were put in warm socks. Even the muesli bars and chocolate bars froze up. Toes and fingers were getting cold and being wiggles constantly, despite double socking and gloving. All the time, we climbed slowly and every time you looked up, you could see lights ahead of you. It became a matter of one making it from one corner to the next as we zigzagged out way up. Would we ever get there. Finally, we reached the rim at Stellar Point as the light of day was starting to make itself felt. By this time, the group were getting strung out and my guide had taken my day pack from me, and was carrying it with 2 others he had taken from other members of the group early in the night.
We witnessed a magnificent sunrise over Africa! Matt & Steve caught me on the final walk to the peak of the mountain, 5895m above sea level, and we walked to the top together. All of us were absolutely spent and emotional at the top. A quick photo (with the Ferals T-shirt) and back down to camp, a walk of 4 hours! Unfortunately, in the confusion at the top, we didn't get a full group photo and I only have an individual one, maybe Steve has one with more of us in it. Judy reached Stella Point and decided she had done enough and returned to camp. Still a great job by her, and enough to get a certificate for reaching the top. Unfortunately, 2 members of the party didn't get to the top.
By the end of the day, we were most of the way back down the mountain and were off it by lunchtime the following day.
What a great achievement by all. Now, the question arises, do we get credited for the slowest ever 5kms that we have completed on the last climb to the top? It was on a Saturday, after all........
---
Date: Wednesday, June 28, 2017
From: Neil
Melburn Roobiax
Officially the ride is just 38km ... so why did it take us all day?
Well its first of all a leisurely start ... no race this ... start any time between 9 and 10 at the Hawthorn Velodrome. Ride at a crawl thru the streets, parks and back alleys of leafy Hawthorn ... a crawl because of the traffic jams of riders. And just as well because there is no way I could have navigated thru this on my own, this is follow the leader and hope they know the way better than some Joggers who shall remain nameless. There's a map to follow, and a lovely map it is too, worth framing, but half of Melbourne on a one page sheet ain't an easy call, and now I realised why they supplied a magnifying glass in the musette ... didn't help though!
Food and coffee stops took a while, and the weigh-in at the Temple Brewing Company to win your weight in beer, of course had to be followed by a taste of what we hoped to win. And then we got lost a few times ... well not lost, I knew where I was ... but where the hell is that sector of pave we need to pound and tick off? I don't think Elio was impressed when I said we had to return down the biggest hill of the day cos we missed sector 4.
It was about here that we overtook the guy struggling with the steel framed bedhead converted to bicycle (he won the best mount of the day) and soon after got overtaken by the team of astronauts lead by a kid towing the boombox equiped rocket (best team of 4). Also spotted Phillipa Shotglass and Ben Dover on their Priscilla inspired tandem with billowing silver banner (best team of 2).
The odometer said we covered 60km before we got to the finish at Brunswick Velodrome.
A great day, a great way to see the back alleys of Melburn and ride the bluestone cobbles which are part of the city's history, and it's always great to ride a well organised event, and be amongst other two wheeled, pedal powered enthusiasts.
(Melburn-Roobaix is a relaxed take on the famous race Paris-Roubaix)
---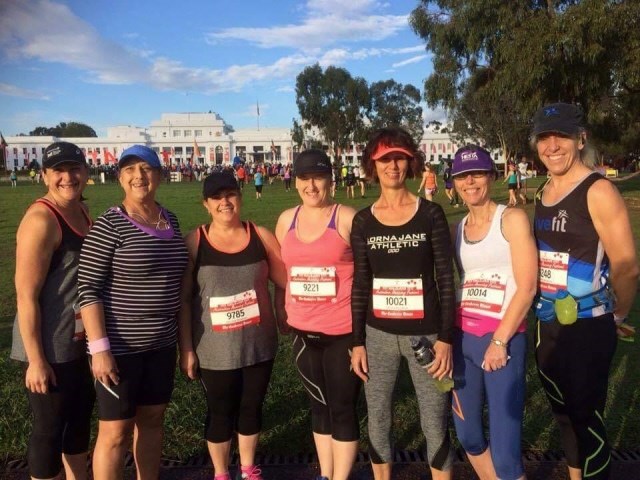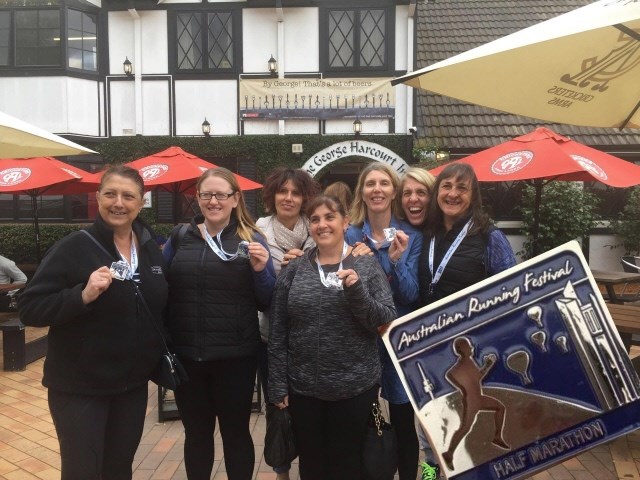 Date: Sunday, May 14, 2017
From: Carmel & friends
Laughs, Butterflies, Medals
Hi Ho we are back on the road again, this time to our nation's capital, Canberra, for the Australian Running Festival, where we all took part in the Half Marathon. Out of the 7, 5 of us completed our very first half. More on that soon.
The road trip was as per usual, laughs, heaps of talking and the mandatory stop for coffee. My husband decided to come away with us this time, somehow I don't think he was quite sure what he got himself into, but he did have a great time away. Friday night we all arrived at a reasonable time not the usual 10pm, we were able to have a lovely tea, catch up with my 2 cherubs before heading off to our accommodation. Saturday was shopping again but not a big one as some ended up going to the art gallery for the Versace display and the rest decided to head back to the unit. Tea was just a short stroll to Kingston, yum yum.
Sunday arrived, I know I had butterflies as I wasn't really sure what I had got myself into but then the rest were up and nerves started to settle. A crisp autumn morning at the start line in front of Old Parliament House, so many starters and soon it was our time. Wished everyone success, off we went, what a great morning for a run. Halfway mark we saw Linda our banana girl. Louanne was running with me, we laughed, talked, took advantage of photo opportunities along the way. We did manage to see Donna and Carissa along the way however not the others. Our aim along the way was to stay ahead of the cut-off time which we had achieved. About an hour into the run the skies had opened and we spent the next hr or so in the rain, not a cold rain. In true feral form we all completed the run, the rain was not going to stop us. Hugs and cheers were at the finish line and that lovely half marathon medal. Quite an achievement.
Back to Kingston for warm showers and heading to lunch at the Harcourt Inn in Gold Creek. A great place for meals folks if ever in need of yummy food and the atmosphere is great. And now it was time to leave our nation's capital and head home where our final stop was in Harden for the mandatory cuppa and to reflect on what we had achieved. Not only was it another great weekend away but most important a memorable one. Louanne Donna Carissa Mirella and I all completed our first Half Marathon, Julie and Janelle their third.